Expedition Report December 2021 - by Amy McLeod
In early December 2021, we set out on a sailing boat (the Pirata) from Puerto Ayora on Santa Cruz island. The main purpose of our expedition was to find marine iguana colonies on the northern and western islands of the archipelago and count the iguanas in them. For this, we collected aerial photographs using drones, as well as doing some walking surveys and other types of counts. In addition, we were joined by a Ph.D. student from the University of Leipzig who used the opportunity to collect samples for a project that aims to better understand the diet of the marine iguana across the archipelago; in total, we were six scientists and a boat crew of five.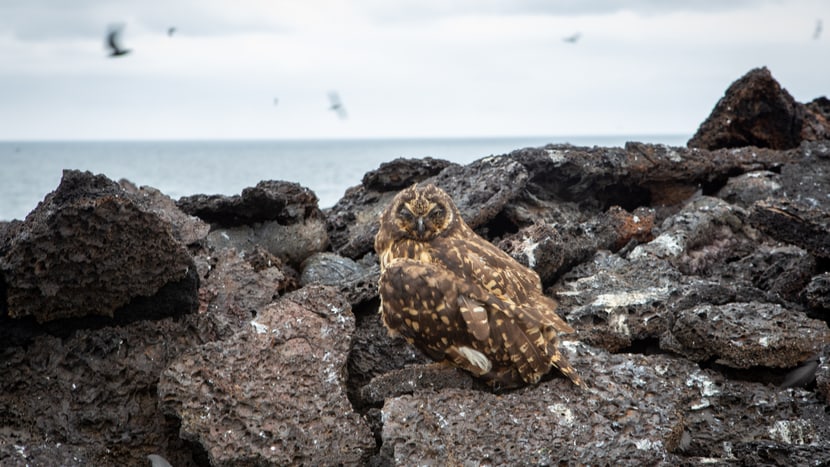 Short-eared owl on Genovesa by Amy MacLeod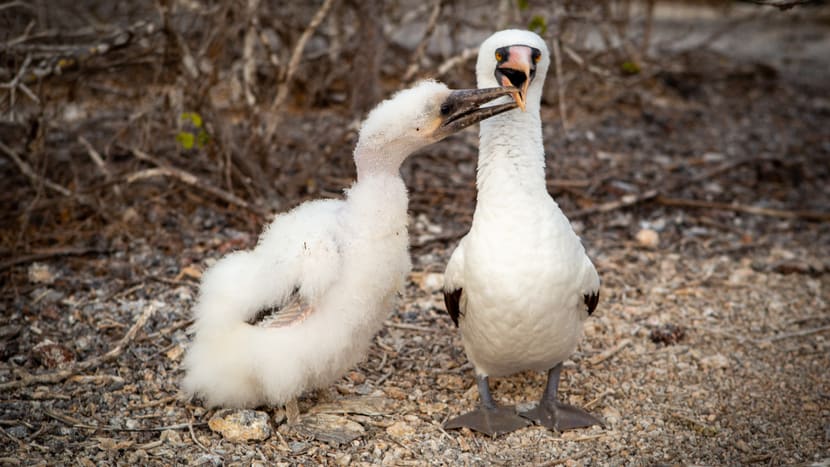 Nazca booby with chicks on Genovesa by Amy MacLeod
The first stop was Genovesa Island, where we found a good number of iguanas on the southern coast. The iguanas here are the smallest of all the subspecies, and the adults are less than 10% the size of adults on other islands like San Cristobal and Santa Cruz. Genovesa has some incredible bird colonies, and in addition to the many nesting Nazca and red-footed boobies, we also saw many gulls, tropicbirds, and several short-eared owls.  
Our next stop was Marchena, where the marine iguana population remains very low following the volcanic eruption in 1991 (which is thought to have directly impacted the colonies and likely affected their food availability). The subspecies here are considered critically endangered and given the very low numbers of iguanas we saw, the high level of concern is justified. Surveying by foot on Marchena is extremely difficult in many areas due to the highly uneven, sharp, and brittle lava rock, and thus the use of drones hugely increased the accessibility in many areas.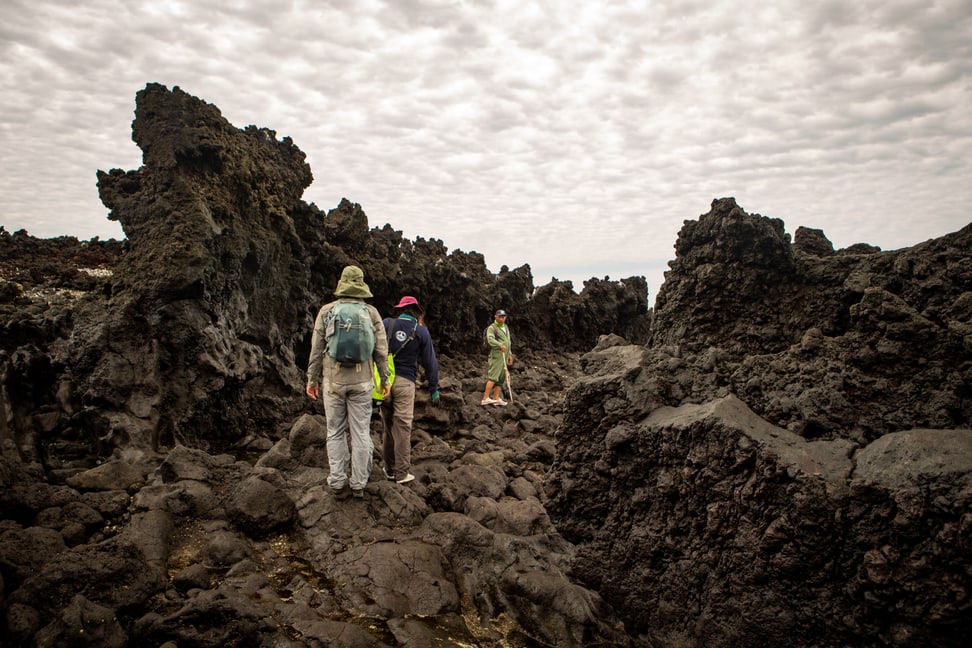 Lava rock formations on Marchena by Amy MacLeod
After Marchena came Pinta. Here we saw reasonable numbers of iguanas (likely in the low thousands) and a good population of Galapagos sea lions. On both Marchena and Pinta, Galapagos hawks—the main predator of young iguanas—seemed quite numerous and may at least partly explain the skittish nature of marine iguanas on these islands.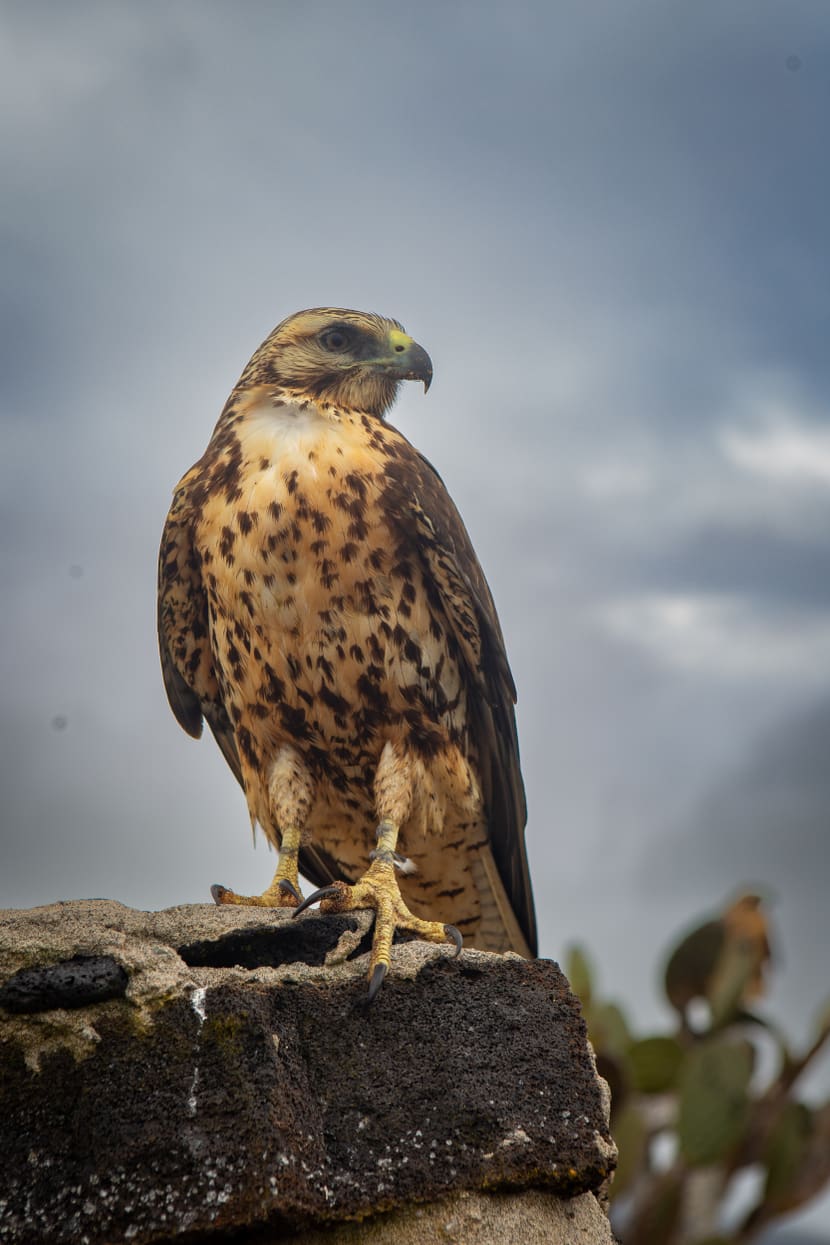 Galapagos hawk on Marchena Island by Amy MacLeod
From Marchena we sailed 14 hours up to Darwin island, a location so remote that it is typically left off maps of the archipelago.  Due to the sensitive nature of wildlife on this island, we were not given permission to fly drones here, and thus we performed our surveys using small boats and cameras with zoom lenses. We were told to expect to find very few (if any) marine iguanas on Darwin. However, with careful surveying, we did find a good number in one locality. This rock was somewhat difficult to access (requiring some rock climbing directly from a rubber boat), but we managed, and this made the long journey to Darwin worthwhile. 
From Darwin we headed south again to Wolf. Wolf is another very small island, with steep cliffs and rough seas, this made boat landings quite impossible in most areas. Fortunately, the drone survey worked well, and we now know a lot more about this small population. We managed to get some samples here, which together with those from Darwin, means that we now have enough samples to finally learn more about this little-known subspecies. The iguanas at Darwin and Wolf are very small and dark, like the Genovesa ones, but we have yet to see how distinct they are in genetic terms.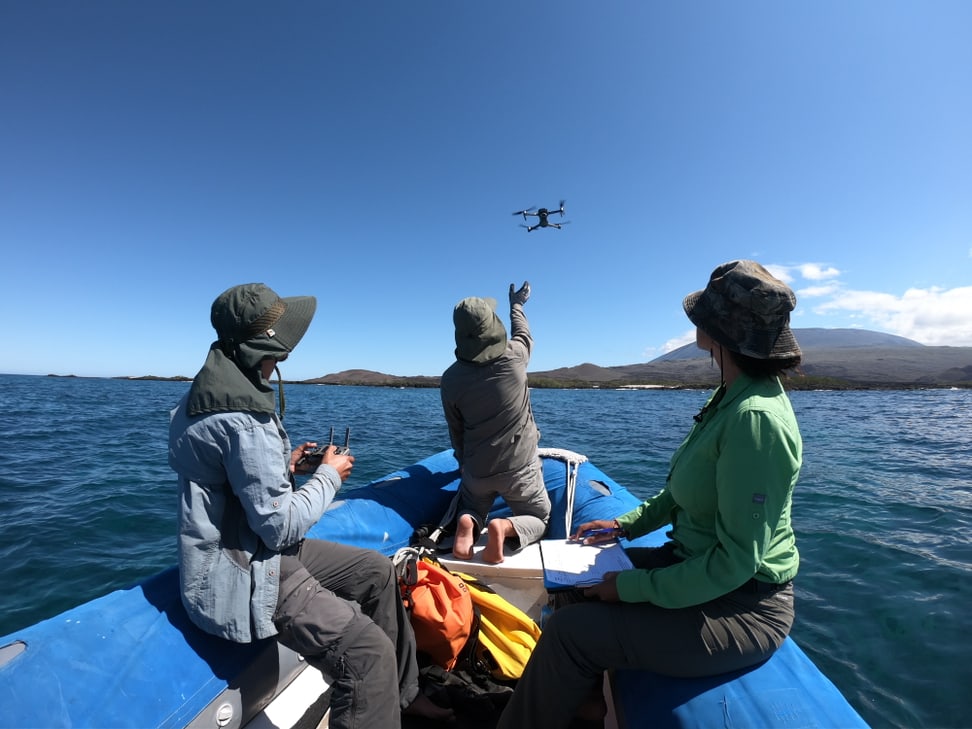 Departure of the drone from the inflatable boat by Andrea Varela
From Wolf we sailed down to Punta Albemarle on Isabela. Here iguanas are far bigger and more numerous, although it was still not a large population for Isabela, an island which should be one of the strongholds of the species. Here we found one older male marine iguana that was marked with a bead in the crest. To our knowledge, such marking was not done since the early 1990s, and so we are trying to find out more about this potentially very old individual by contacting the scientists that did the marking back then. After Albemarle, we sailed past Volcan Wolf (where the pink land iguanas live), across the equator down to Punta Vincente Roca, which is a very spectacular location. Here the iguanas are impressive rock climbers and can be seen relaxing on high vertical cliffs. At this location we saw many young iguanas, which is always a very positive sign and sadly not one that I have seen often. This seems to be a strong and healthy population.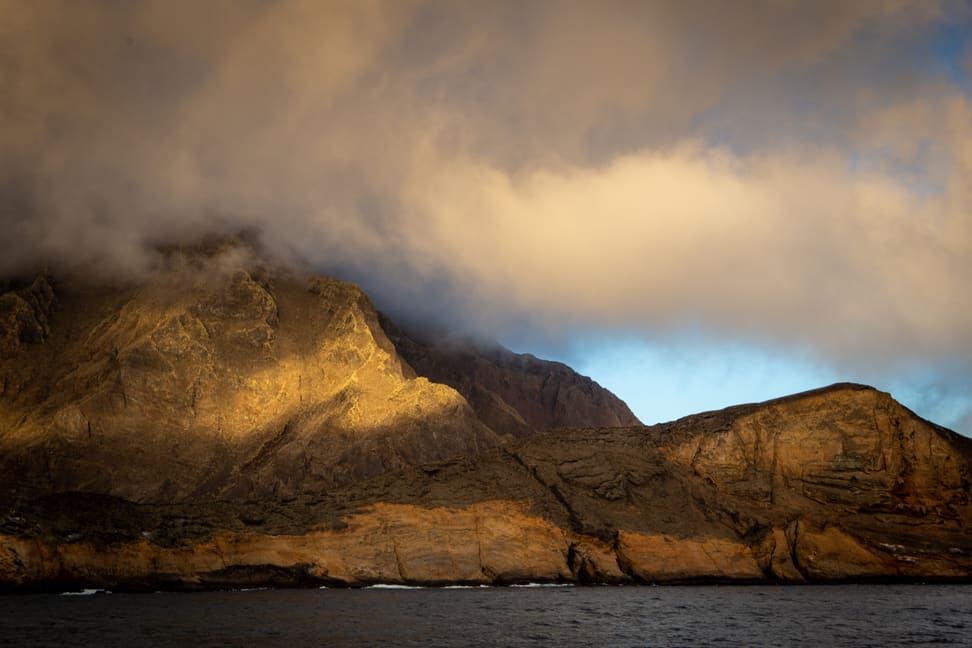 Sunset on the north coast of Isabela Island by Amy MacLeod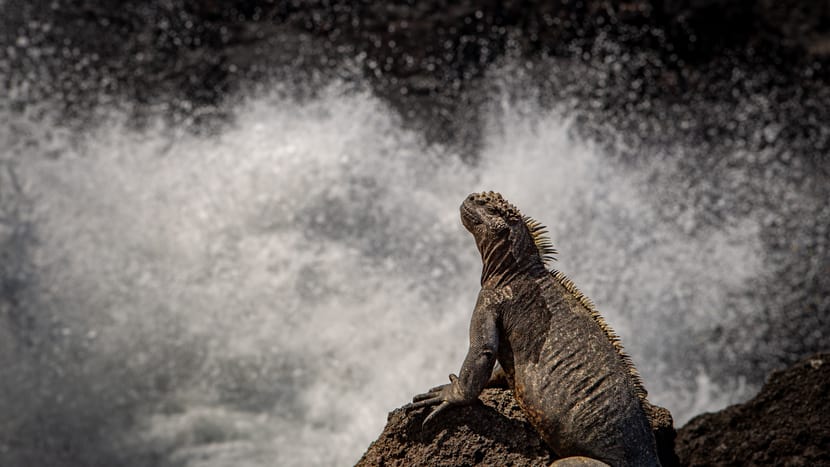 Iguana near Cabo Douglas on Fernandina by Amy MacLeod
View of a colony of marine iguanas at Cabo Douglas, taken with a drone
rom Isabela we crossed the Bolivar channel to our final island – the youngest and most western of the Galapagos – Fernandina. At Punta Espinosa, we arrived to find huge piles of iguanas basking in the afternoon sun. The next morning, we watched great numbers of them swimming out to feed. The cold waters and strong upwellings around Fernandina fuel strong algae growth which in turn supports big colonies of large-bodied and healthy marine iguanas. From here we surveyed our way along the northern coast to our final stop – Cabo Douglas. This beach and the surrounding cliffs are spectacular, equally impressive is the huge numbers of marine iguanas that can be found on the rocks, beach, and swimming —sometimes surfing— in the sea. This location was where the famous BBC footage of the marine iguana hatchlings being chased by racer snakes was filmed, and we were lucky enough to see some racer snakes exploring around the rocks.  
At the end of this 21-day expedition, we have collected over 62,000 aerial photographs, in 186 sites across 7 islands. We add these data to our previous expeditions in 2019 and 2020, which brings the number of surveyed islands to 9 fully surveyed and 2 more partially surveyed. In January 2022, we plan to complete the fieldwork in a final field season to survey the remaining colonies on Fernandina and Isabela, as well as those on Santa Cruz, Santiago, and the smaller nearby islets like Rabida and Pinzon. Once analyzed, we are confident that this work will provide the first full and detailed marine iguana population survey ever undertaken, which will enable effective conservation of all 11 marine iguana subspecies. What's more, the method we are developing will offer a far safer way to access many of their remote colonies across the islands, helping to ensure that we are able to monitor this species better in the future.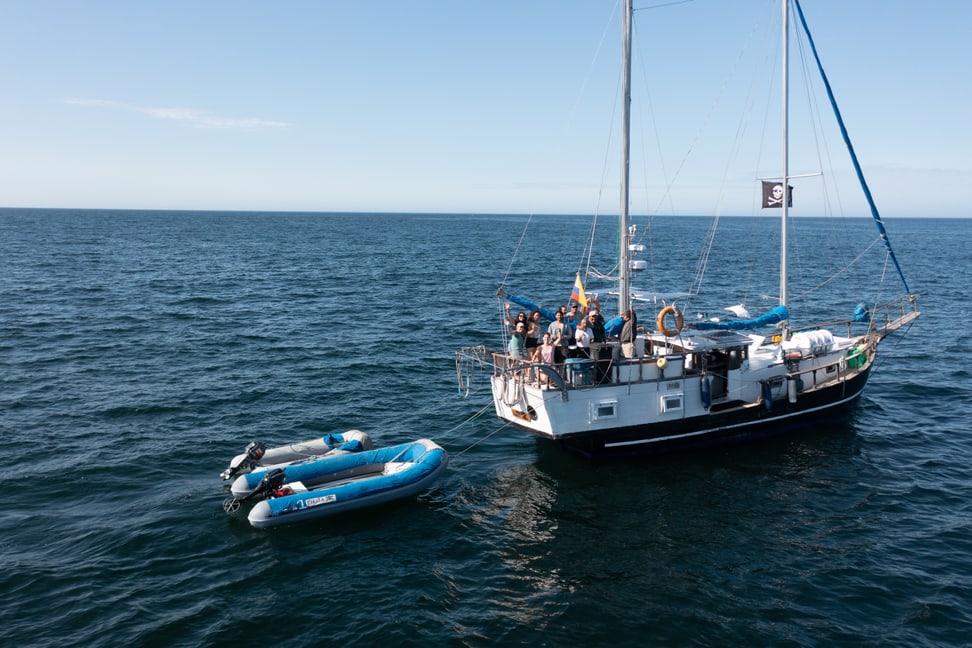 The Pirata with the expedition team and the boat crew