Barcoding Galápagos - barcodes for all multicellular organisms on Galápagos
You probably wondered about the headline. Barcodes are familiar to us from the supermarket, but what do they have to do with Galápagos?  It is already an unusual idea that every species of this archipelago should receive one of these barcodes. 
Don't worry, it's not about labeling every living thing with a barcode and then running a scanner over the islands and reading in the respective data. The goal of the project is to create a database or library where the genetic profile, or "individual blueprint," of each type of life on the archipelago can be retrieved using a barcode.

All drawings © Galápagos Conservation Trust
Until now, different species of creatures have been described and assigned mainly according to their external appearance, i.e. taxonomically recorded. However, it is often very difficult to reliably identify a species exclusively according to its directly visible morphological characteristics. For this reason, many taxonomies are outdated. Currently, science estimates that there are more than 8.7 million species worldwide, of which only a small fraction have been scientifically identified.  
We can only protect what we know! 
Among scientists who deal with endangered species and the loss of genetic diversity, this phrase is a common one. Only if we know the genome, i.e. the entire genetic information of a species, in addition to the macroscopically visible characteristics, we are able to assess whether a species is endangered or not. After all, the genetic diversity of a species is the precondition for its permanent preservation.  
An example of this is the discovery by Prof. Sebastian Steinfartz, who determined after genetic analyses in 2017 that Marine iguana have a total of 11 subspecies. Moreover, two subspecies have evolved side by side on San Christóbal, separated by only a few kilometers. Unfortunately, according to the IUCN, all these Marine iguanas are threatened with extinction. Dr. Amy MacLeod has just returned from a census of the animals. We hope to be able to give you more information about them soon.  
What's new? 
Being able to reliably assign a species based on a small section of its DNA allows for a faster and more sustainable record of the species in an ecosystem. Finally, each species has a unique set of genes. This is then given a unique barcode.  
After extracting the genes from the DNA samples taken, scientists can see how closely related different groups or individuals of a species are. From this, the genetic diversity of a species can also be seen. As a result, it will be much easier in the future to find suitable breeding partners and thus ensure the preservation of a species. In addition, researchers assume that it will be possible to discover more new species using "barcoding" than was previously possible. However, current knowledge about which species are important for an ecosystem and to what extent is quite limited. In a place as unique as the Galápagos Islands, this makes it more difficult to implement sustainable conservation measures. 
Why Galápagos? 
Although we regularly report on research projects in the Galápagos Islands with many new discoveries, there are still many species on the archipelago that have not been studied. In particular, fishes of the coral reefs and microorganisms, representing the largest part of the islands' biodiversity, have not been studied. The project "Barcoding Galápagos" aims to close this knowledge gap by describing the genome of all species living on the archipelago. This does not only mean the giant tortoises, Marine iguanas, Land iguanas or Mockingbirds. All plant species such as Scalesia trees, Mangroves or Opuntias and insect species right down to microbes will be recorded as well.  
This sounds like an ambitious undertaking, but experts believe that recording all species of the Galápagos ecosystem is realistic and feasible. The natural isolation of the Galápagos Islands makes it a perfect fit for such a project; because of the volcanic origin of the archipelago, science estimates that there are "only" 9,000 different species of multicellular life. 
The long-term benefits 
This Galápagos barcode library will help scientists and conservationists decide which animals are best suited for reintroduction projects or identify problems within the ecosystem. Another benefit of this database is the ability to identify invasive species and their origins. This will allow improved conservation measures to be developed in future as well as more targeted support for ongoing projects. In addition, the illegal trade in animals and plants will be made more difficult if it is easier to quickly assign individual species. 
Thus, this project combines several goals. The population of the Galápagos Islands also benefits from a barcode library. Jobs are still scarce and the inhabitants of the islands are suffering from an economic crisis caused by the COVID-19 pandemic. To date, this project has provided 84 locals with employment opportunities in conservation. They have received in-depth training in laboratory/field techniques and have already collected more than 400 samples of species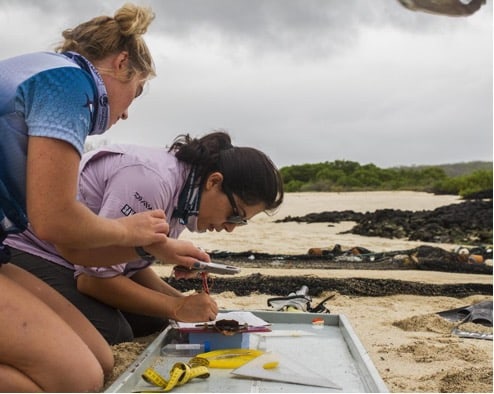 Collecting samples © Galápagos Science Center 
Please help us to support this ambitious project! 
Your donation will help to ensure that it will be possible in the future to better understand the developments of living organisms and their adaptation to living conditions on the Galápagos Islands. With your help, this promising project will be implemented, paving the way for Galápagos Conservation 2.0.