After 6.5 years, volcano Wolf erupts without warning!
The 7th of January 2022 was only 20 minutes old when Ecuador's Geophysical Institute reported a cloud of gas and ash over the Wolf volcano, which quickly reached a height of around 3,800 meters. Lava flows then erupted on the southern and south-eastern flanks of the mountain, igniting fires in several places.
Isabela Island is not only the largest island in the archipelago, it also has six active volcanoes. Wolf volcano in the north of the island is the highest at around 1,700 meters.  
While there are no inhabited areas near the volcano that was at risk from the eruption, at the time, researcher Dr. Jorge Carrión and a team of rangers were working on the rim of the volcano for a research project. 
A lava flow making its way ©Galápagos National Park Handout/EPA    
Fortunately, the group had set up their field camp at a safe distance from the outbreak site and was not directly endangered. Nevertheless, the entire team was immediately flown out by helicopter. Situations like this show us how quickly a research team can get into dangerous situations during their supposedly safe work in volcanic areas.  
Until now, the lava flows have sought their way near old eruption sites with little vegetation. For this reason, volcanologists currently assume that the damage caused by resulting fires will not be permanent.  
Despite this, there are fears that the population of the rare, endemic pink iguana (Conolophus marthae), whose research we are supporting through a project by Prof. Gabriéle Gentile, could be threatened by a new eruption of the volcano. In autumn 2021, counts of the pink land iguanas revealed that only around 211 animals live in their habitat on the northern slopes of the Wolf volcano.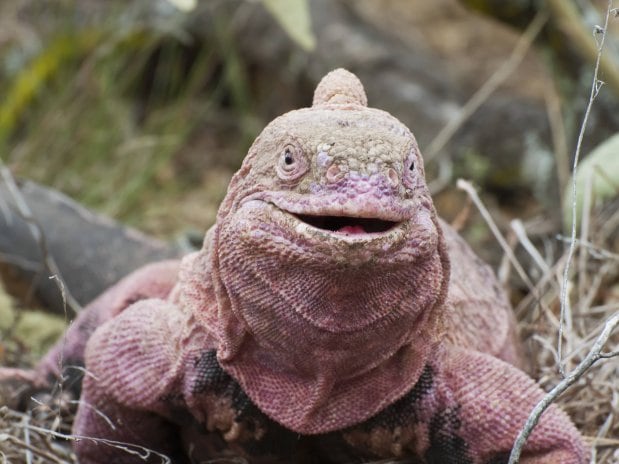 Pink iguana © imago/Nature Picture Library