First Galápagos giant tortoises born in British zoo
Galápagos giant tortoises have been successfully bred for the first time at the British zoo "Crocodiles of the World" in Brize Norton, Oxfordshire. The parents of the two newborns were 70-year-old Dirk, who came to the UK in the 1960s, and 21-year-old Charlie, whose parents are Jumbo and Nigrita from Zurich Zoo. The two hatchlings are currently about the size of tennis balls but can weigh between 80 and 210 kilograms as adults.
Galapagos giant tortoises have a life expectancy of well over 100 years and are synonymous with the Galápagos Islands.  
Brize-Norton Zoo has a total of four Galápagos giant tortoises. Three females named Zuzu, Isabella and Charlie, all children of Jumbo and Nigrita, and Dirk, who is named after Dirk Diggler from the film "Boogie Nights". It remains exciting whether the other ladies are also expecting offspring in the future.  
There are only about 23,000 Galápagos giant tortoises left in the world, compared to over 200,000 in the 19th century. On the Galápagos Islands, our association has been supporting breeding programmes and the Galápagos Tortoise Movement Ecology Programme (GTMEP) founded by Dr Stephen Blake for many years.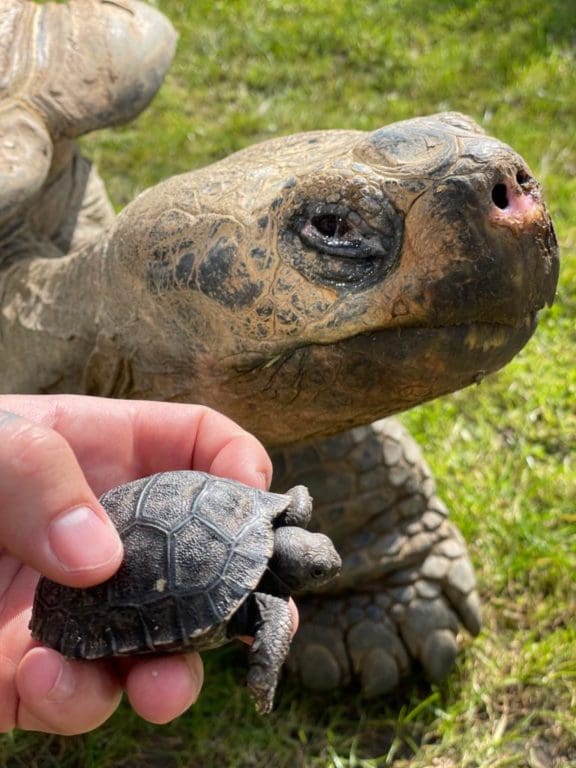 Dirk with one of the hatchlings
©www.crocodilesoftheworld.co.uk