The Galápagos Marine Reserve will be extended
A major success was achieved for the Galápagos Marine Reserve at the World Climate Change Conference in Glasgow (COP26). For a long time, intensive negotiations have been going on with all stakeholders for a protected migration route for marine animals between the Galápagos Islands and Cocos Island near Costa Rica. The Ecuadorian fishing industry has also been involved in these efforts and now, finally, Ecuadorian President Guillermo Lasso has announced that the Galápagos Marine Reserve will be extended by 60.000 km2 (23,166 square miles). This expansion includes a 30.000 km2 corridor connecting the Galápagos Marine Reserve with the protected area of Cocos Island off Costa Rica.
We have already reported several times that this corridor runs along a deep-sea ridge that serves as a migration route for many marine animals. This is where they find sufficient food and protection from predators on the reefs. Whale sharks, turtles, hammerhead sharks, and rays are just some of the endangered species that use this route. However, until now this was an unprotected zone that was heavily exploited by the fishing industry. Therefore, it was decided to ban longline fishing in this corridor and to punish it accordingly.   
Our association has been supporting the project of the "Protected Swimming Corridor" between the two UNESCO World Heritage Sites for a long time. We are therefore extremely pleased that this important connection of marine protected areas is finally taking place.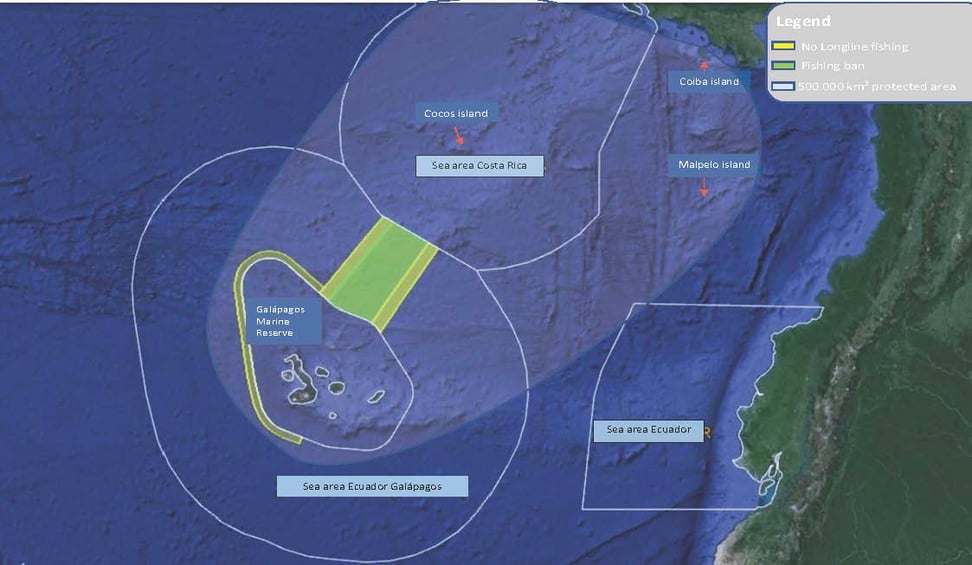 In addition, the presidents of Ecuador, Colombia, Costa Rica, and Panama have agreed to expand marine protected areas in their countries. It is planned to create a protected area of around 500.000 km2 linking the Galápagos Islands, Malpelo Island in Colombia, Cocos Island, and the Coiba Islands, near Costa Rica and Panama. This covers an area larger than Switzerland, Germany, and Austria combined! There are also plans to ban industrial fishing in this new protected area for the future.