The project "Iguanas from above" has reached the 3rd phase. The project leader Dr. Amy MacLeod from the University in Leipzig informed us that the pictures of the third expedition to the islands Genovesa, Marchena and Pinta are now available on the platform Zooniverse.
The unique Marine iguana (Amblyrhynchus cristatus), found only on the Galápagos Islands, are considered endangered on the World Conservation Union (IUCN) Red List and need to be permanently protected.  
To this end, it is important to know how large the sea lizard populations actually are. Only then can meaningful measures be taken to protect them.  
For this reason, biologist Dr. Amy MacLeod from the University of Leipzig, Germany, is conducting a census project in 4 phases, using drones to fly over and film the coasts of the Galápagos Islands. Animals visible in the resulting images are then counted to determine the size of the population and sex distribution.  
You can help with this by logging onto the Zooniverse site at the link below.  
https://www.zooniverse.org/projects/andreavarela89/iguanas-from-above 
Please help to count Marine iguana, but also other animals and even existing plastic waste. By doing so, you help to determine the current number of Marine iguanas, but you also provide important data for other projects such as the plastic prevention study or the count of Galápagos sea lions.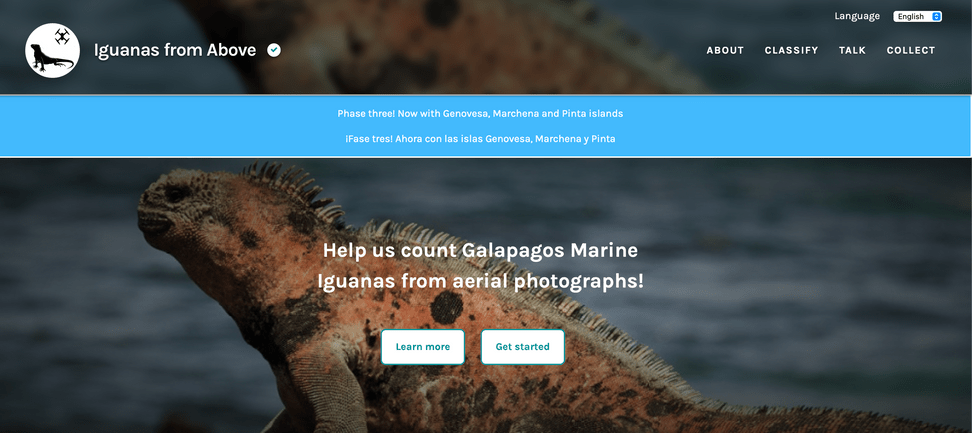 Young Pink Iguanaã GNPD/Galápagos Conservancy