Sustainable fisheries and expanded species protection in the Galápagos Marine Reserve
The Galápagos Marine Reserve (GMR) is one of the world's most biodiverse marine areas and was established in 1998 out of concern over declining fish stocks and to protect against the impacts of longline fishing. It covers an area of 133,000 km2. At the time of its establishment, it was the second largest marine protected area in the world. It now ranks 33rd.  
Despite the great efforts to sustainably protect the impressive underwater world, it is threatened again and again. Unsustainable fishing and climate change are having a negative impact on the health of the ocean and its important ecological function. 
The Eastern Tropical Pacific (ETP) is of great ecological and economic importance for Ecuador. Due to different ocean currents carrying nutrient-rich waters into the Galápagos Marine Reserve, there are many endemic species found there that are found nowhere else.  However, the abundance of fish and marine life attracts huge fishing fleets. Besides vessels from all over the world, the Ecuadorian tuna and longline fleet is one of them. This is a very large employer in the region for 58,000 people.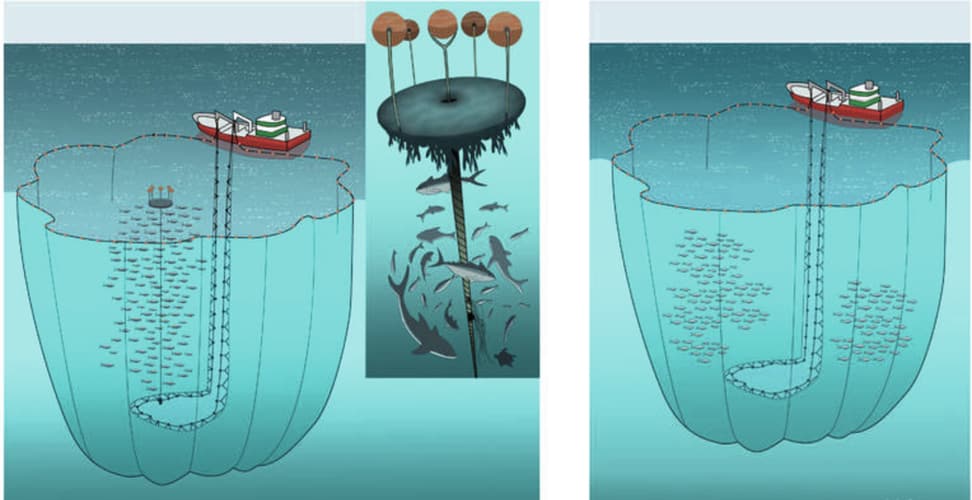 Ecuador has the world's largest tuna fleets, which use purse seine nets to catch entire schools of fish in a single operation This also means that large quantities of juveniles are caught, which are too small to be utilized but will be missing from future populations. ©Greenpeace 
In addition, climate change and overfishing of the world's oceans in many areas are causing fish populations to disappear, making the Galápagos Marine Reserve even more attractive to the fishing industry. 
In the last 20 years, regular counts have been carried out in the protected area. It has been found that 13 of the 28 species surveyed have declined sharply. This decline also affects the livelihood of the people on the Galápagos Islands; they live primarily from tourism and traditional fishing and depend on marine biodiversity. However, biodiversity is under massive threat from unsustainable fishing practices as well as illegal, unreported, and unregulated (IUU) fishing by vessels that sail without a transmitter signal in order to remain undetected. 
Figure 1. Spatial distribution of catch values (red is high, green is low) for Ecuador's national longline fleet throughout the area of operation (approximately 3.3 million km2) (right). © USFQ/Alex Hearn 
The GMR project   
The Galápagos Conservation Trust (GCT) is working hard to find solutions to these problems with the " GMR (Galapagos Marine Reserve) project". In this project, vessels of the Galápagos National Park Authority (GNPD) are equipped with innovative technologies. This helps to reduce illegal (IUU) fishing and thereby push the fishing industry to improve their fishing methods and make them more targeted. At additional information events for local fishing companies, more sustainable fishing gear is presented, and its use is promoted. In the future, the fishermen will also help to determine catch quotas, count sharks, and track down IUU vessels. Also on the agenda is the introduction of new rules for better waste management on the vessels and better reporting. In this way, a change in national and later also in international maritime policy is to be achieved.  
The borders of the Galápagos Marine Protected Area are easy to cross for international fishing fleets; but difficult to control for the rangers of the National Park Authority. This situation encourages illegal fishing and threatens many species of marine life. A large part of the endangered species is sharks. However, these large predators contribute significantly to the fact that the oceans contain ecologically balanced species populations and can thus fulfill their important function as a carbon sink, which is very significant for our climate. Shark fishing is not allowed in Ecuador, but a legal loophole makes it possible for over 250,000 sharks per year to be declared as bycatch. 
Therefore, it is very important to introduce new technologies that allow tracking the routes of ships in the Eastern Tropical Pacific (ETP). The new system allows for a complete record of all activities in a range of 100 - 300 km around the vessel on which the equipment has been installed. Therefore, not only GNPD vessels are to be equipped with it, but local fishermen are also being sought who are willing to use this technology.  This will enable them to scan their surroundings, record and report unauthorized fishing, or count sharks. With the aim of reducing fishing both in the Exclusive Economic Zone (EEZ - 12-mile zone) off Ecuador and in the Marine Protected Area, according to the IUU. (Between 2018 and 2020 alone, 136 illegitimate fishing vessels were reported there.) In this way, fishermen help the management of the Galápagos National Park Authority to enforce effective conservation measures and contribute to securing jobs and food for coastal inhabitants in the long term. 
Improving waste management 
Around 30% of the plastic waste found in the marine protected area is due to poor waste management by industrial and local fisheries. The ecosystem is severely threatened, as a result, changed waste management on the ships is urgently needed.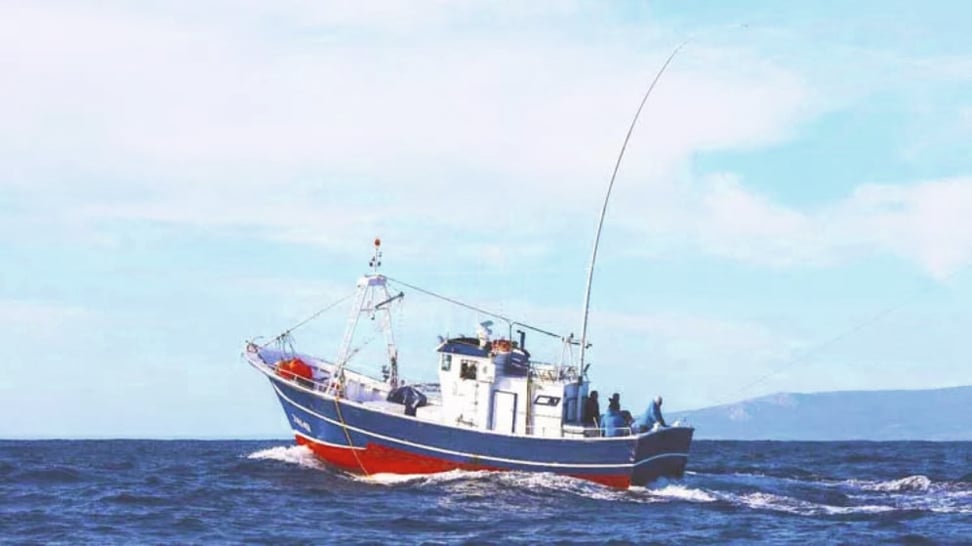 Vessel with "Green Stick", whose line keeps a bait just above the surface and thus attracts only the desired tunas. ©www.Tarifafisch.de 
Workshops and information sessions for managers of industrial and artisanal fisheries are offered on the Galápagos Islands, Cocos Island, and the mainland of Ecuador and Peru. They are encouraged to use sustainable, environmentally friendly fishing methods such as "green stick or kite fishing". They are also provided with the new fishing gear for testing. The experiences gained are then evaluated to obtain more information on catch quantities, their quality, and the best types of bait. These results are summarised in life cycle assessments. This makes it possible to create sustainable recommendations for the entire fishing industry. 
In addition, this information helps to identify where it is important to establish new protected areas, such as the Galápagos-Cocos swim track. It also provides applicable data for policymakers to identify and enforce the urgency of international conservation measures.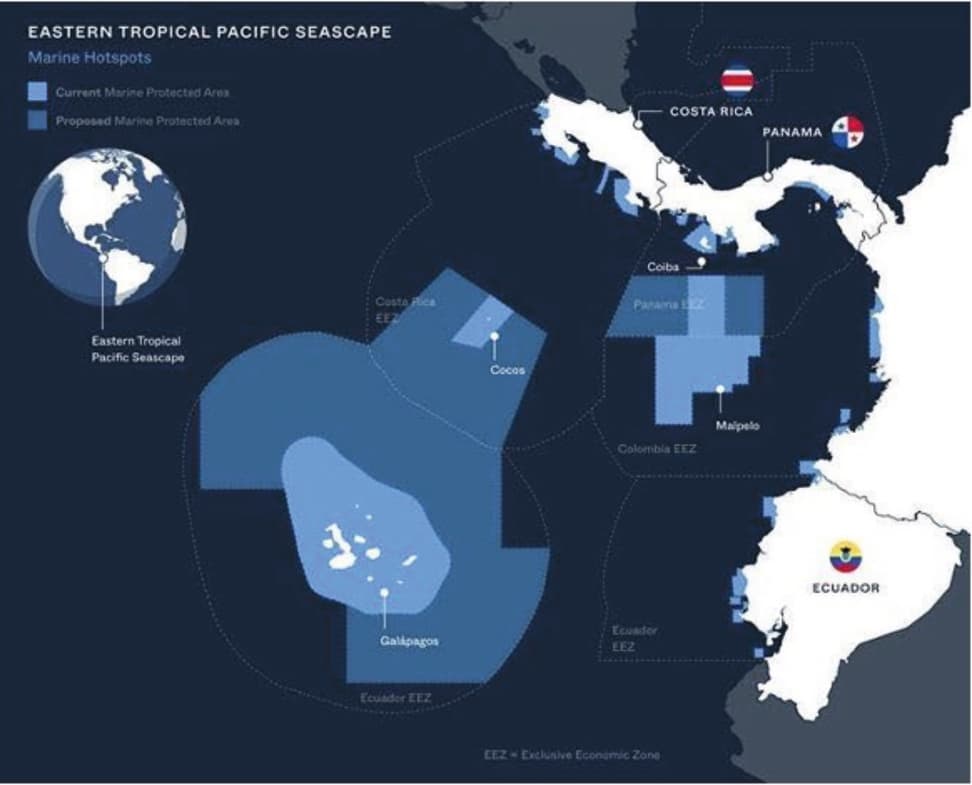 Planned expansion (medium blue) of existing protected areas in the ETP (light blue) ©Only one